Where's SV Nereida?
After a two-year wait, 76-year-old Jeanne Socrates is making another attempt
at the world record for a solo around-the-world unassisted circumnavigation,
without touching land, by the oldest person, man or woman.
Jeanne expects this to be a seven-and-a-half-month effort.
She keeps a daily blog on her website: svnereida.com
Updates are twice a day by Jeanne using www.winlink.org
Nautical Miles
Speed in Knots
Last
Total
Last
Max
Avg
43
18,489
5.5
7.9
4.30
Last log entry - Sun Mar 17 2019 23:21 GMT-07 (PDT)
"On port tack. Downwind sailing. Overcast sky"
Zoom and drag like any other Google Map. Click on a ship for details.
Reset Map
Wind forecast for current Nereida position at -42.771, 67.029
Use the slider at the bottom of the Wind map to change the forecast time.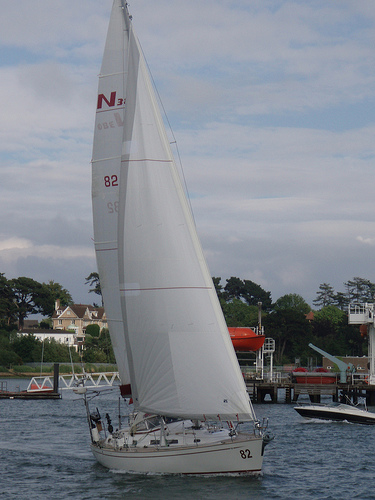 Position data courtesy of www.winlink.org.
Copyright Amateur Radio Safety Foundation, Inc., a non-profit, public benefit corporation.
---
---
---
Where's Jean-Jacques Savin?
Scroll up the page to see his current location on the tracking map
On Dec 26th 2018, Jean-Jacques Savin a Frenchman, began a journey across the Atlantic Ocean, departing
from near El Hierro, the smallest of the Canary Islands. Uncertain of where he will land, he packed accordingly
with Foie Gras and wine in his under 75 square foot barrel made of plywood that is orange and coated with resin.
Updates are once a day by Jean-Jacques

Last log entry - Mon Mar 18 2019 11:54 PM GMT-07
Nautical Miles
Last
Total
43
2366
"Maybe Barbados, although I would really like it to be a French island
like Martinique or Guadaloupe," he joked. "That would be easier for the paperwork
and for bringing the barrel back."
French Caribbean
Miles To
Island
1,237
Barbados
1,233
Guadeloupe
1,263
Martinique
1,281
Saint Barts
1,291
Saint Martin
Wind forecast for current Jean-Jacques Savin position at 23.10107, -43.77521
Use the slider at the bottom of the Wave map to change the forecast time.