Webcam - Kilauea Volcano in Hawaii
Kilauea volcano began erupting for the 3rd time in 2023 on September 10th, in Halema'uma'u crater.
From the northwest rim of the caldera, looking south.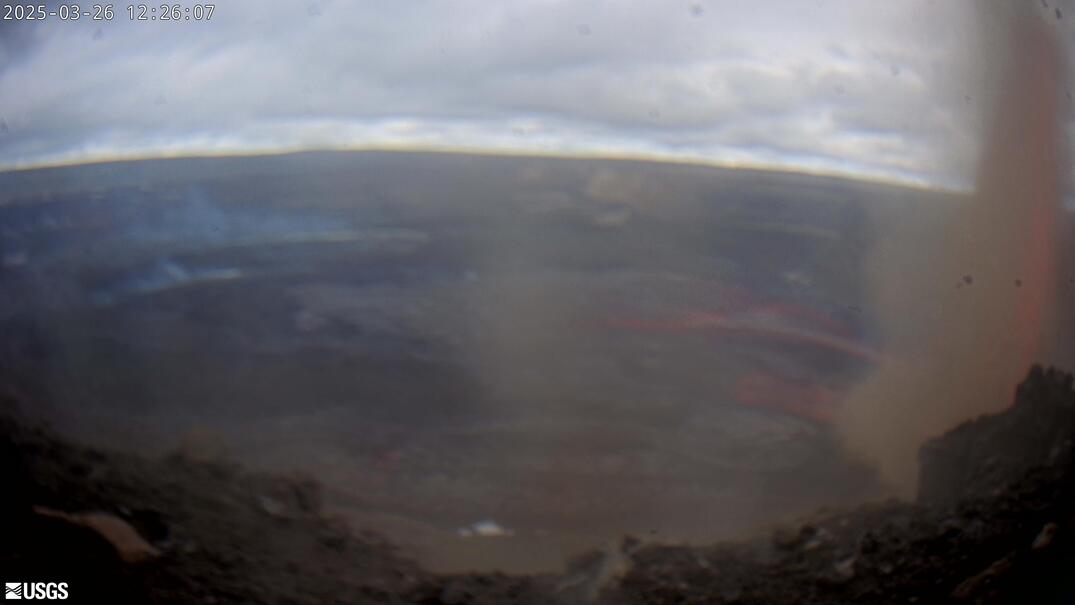 From the west rim of the summit caldera, looking east.

HAWAIIAN VOLCANO OBSERVATORY DAILY UPDATE
U.S. Geological Survey
Saturday, September 16, 2023, 9:45 AM HST (Saturday, September 16, 2023, 19:45 UTC) Current Volcano Alert Level: WATCH
Current Aviation Color Code: ORANGE

Activity Summary: The Kilauea summit eruption that began on September 10th continues this morning. Eruptive activity is confined to the downdropped block and Halema'uma'u crater within Kilauea's summit caldera. No unusual activity has been noted along Kilauea's East Rift Zone or Southwest Rift Zone.

Summit Eruption Observations: Vents continue to erupt on the western side of the downdropped block within Kilauea's summit caldera and are generating lava flows onto Halema'uma'u crater floor. Effusion and gas emissions continue to decrease and the eruption continues at a greatly diminished rate.
Field crews observed eruptive activity greatly decrease or cease at several vents yesterday morning. This morning, webcam imagery shows little or no fountaining since 7 a.m., however, intermittent spattering was seen from the westernmost large cone throughout the night. Thermal images show that lava continues to flow onto the crater floor consistent with a very low level eruption.
P81hoehoe lava flows continue to flow from the vent area in north and west directions around elevated ground from the 1982 eruption and onto the eastern part Halema'uma'u crater floor. Webcam imagery over the past day shows that the area of active lava has retreated even further towards the vents though numerous oozeouts of lava were visible over other parts of Halema'uma'u crater floor overnight.
The laser rangefinder is aimed at a western portion of Halema'uma'u, not near the new eruptive activity, recorded little change over the past 24 hours. Since the eruption started, about 10 meters (33 feet) of uplift has been recorded at this locality demonstrating that lava intruded beneath the pre-existing crust within Halema'uma'u.
Volcanic gas emissions in the eruption area are elevated; the most recent SO2 emission rate of 20,000 tonnes per day was measured the afternoon of September 13. This is down significantly from the 190,000 tonnes per day measured just after the onset of the eruption on Sunday, September 10th.
The live-stream video of the eruption is temporarily unavailable this morning. When active again, it will be available at https://www.youtube.com/usgs/live.
More eruption information is available at: https://www.usgs.gov/volcanoes/kiilauea/recent-eruption.
Summit Observations: Summit tilt has was mildly inflationary most of the past 24 hours, with a switch to mild deflation early this morning. Summit seismic activity is dominated by eruptive tremor (a signal associated with fluid movement) with very few volcano tectonic earthquakes.



Graph showing the depth of the Halema'uma'u crater lava lake at Kilauea Volcano's summit for the past month.
See the past week of Kilauea monitoring data
Time lapse video of lava lake change from November 29 back to October 2 (3 days after Sept 29 eruption)